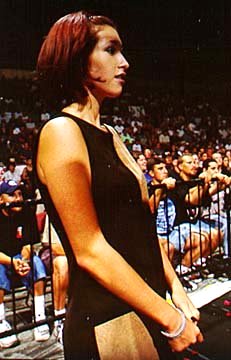 WWE Biography
Edit
Shian-Li Tsang made her WWF debut on the June 29, 1998 edition of RAW. She participated in an storyline which involved a feud between the Japanese stable Kaientai (Taka Michinoku, Funaki, Dick Togo, Men's Teioh, and Wally Yamaguchi) and Val Venis.
She worked under the gimmick of Kyoko Yamaguchi (refered to as simply Mrs. Yamaguchi during her tenure), the onscreen wife of Wally Yamaguchi (manager of the Kaientai stable) and sister of Taka Michinoku, who had an affair with Venis. Mr. Yamaguchi discovered the affair when he was shown a video of his wife and Venis in bed together. He decided to punish Mrs. Yamaguchi by giving her a spanking with a wooden paddle. Venis intervened and the punishment never took place. At one point in the feud, Mr. Yamaguchi and Kaientai got a hold of Venis, dragged him backstage, and attempted to castrate him.
On the August 10, 1998 edition of RAW, Venis ended the affair with Mrs. Yamaguchi. Her final appearance was on August 24, 1998. Her character was dropped from WWE television afterwards.
Despite being a personality for a few months, Mrs. Yamaguchi was one of the few past Divas not mentioned in the "Every Diva Ever" gallery on WWE.com.